DESKTOP PUBLISHING
(ELECTRONIC TYPESETTING & GRAPHIC DESIGN)
ONE-OF-A-KIND CERTIFICATES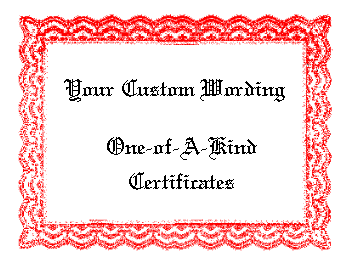 Custom wording on Certificate Paper - $7.50 ea.
Great GAG or SERIOUS gift. Suitable for framing.
Also available in quantity purchase for schools, church groups, clubs, etc.
E-mail for pricing.
---
IF YOU NEED ANY OF THE FOLLOWING ITEMS, PLEASE CALL ON US:

Event Programs (From one page to a multi-paged 8-1/2 x 11 booklet)
Manuals
Brochures
Business Cards
Business Forms
Calendars
Coupons
Envelopes
Fax Cover Sheets
Flyers
Memo Pads
Menus
Message Pads
Newsletters
Pamphlets
---
We do not solicite advertising or sell subscriptions for our clients. We do not, ordinarily, contract the printing. We give you camera-ready copy to take to your printer and/or diskettes or e-mailed files in Windows PageMaker 5 or CorelDraw 5 format.. We can work from your .txt files (and other PageMaker importable WP-type files) or legibly written drafts. If your printer's typesetter is very busy, this can save you days or weeks! When requested to do so, we can have a job printed and shipped to you, after proofs and quotes have been O.K.'d by you.


---
Typesetting Charges: $25.00/hr. (minimum 1 hour)
For manuals, programs, booklets, newsletters, pamphlets, there will be a set-up fee of $10.00 per page.
Graphic work - original logo design, graphics not supplied by you to be included in job, $25.00/hr.


---
We will also provide Internet Research, where required, to create articles of interest in programs, pamphlets, etc. The charge is $10.00/hr.


---
Work will be started after receipt of 50% of ESTIMATED cost of job.

If you are planning both PRINT and INTERNET advertising - let us do both so that your image will be consistent and coordinated!
Please

us.
or
Return to our Main Page.


This page was created by ©1997 Marge, the Web Page Geni, at Milner's World.
All Rights Reserved